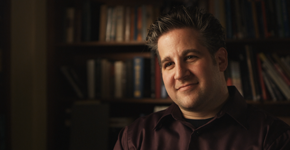 Founding Principal, Eric Corey Freed
Books by Eric Corey Freed
Eric is the author of four books, including "Green Building & Remodeling for Dummies", a bestseller with over 200,000 copies in print.
His latest, "Green$ense for the Home" won the 2011 Outstanding Book Award from the American Society of Journalists and Authors. He is also co-author of the seven innovative study guides for young architects at Architect Exam Prep.

---
Green Building & Remodeling for Dummies
Want to build responsibly, reduce waste, and help preserve the environment? Green Building & Remodeling For Dummies is your friendly, step-by-step guide to every facet of this Earth-friendly method of construction. Building a home—even a green home—uses plenty of resources and energy. This practical, hands-on book shows you how to build or remodel conscientiously, whether your dream home is a simple remodel or a brand-new multimillion-dollar mansion.
---
Green$ense for the Home: Rating the Real Payoff from 50 Green Home Projects
Co-Author: Kevin Daum
When does a green home project make financial sense? The authors of this book provide the answer to this and other questions relating to the cost (and relative value) of environmentally friendly home improvements. Eric Corey Freed and Kevin Daum are experts, respectively, in green building and in financing custom homes. In this information-packed book, they walk readers through 50 green home projects and break them down according to the positive impact they have on the environment, as well as the impact they may have (both positive and negative) on the reader's wallet.
---
Sustainable School Architecture
Co-Author: Lisa Gelfand
Get the comprehensive guide to the sustainable design of schools. The elementary and secondary school buildings and campuses built today are the schools of the future. Sustainable School Architecture is a guide to the planning, architecture, and design of schools that are healthy, stimulating, and will conserve energy and resources. Written with the needs of architects, construction professionals, educators, and school administration in mind, the book provides a road map for sustainable planning, design, construction, and operations.
---
Green Your Home for Dummies
Green Your Home All-in-One For Dummies empowers readers to make ecologically-friendly improvements to each and every area of their home. At $29.99 and 696 pages, this package is a real value and a true source book for readers looking for a substantial breadth of information and solutions yet unwilling to invest in four, five, or six books on the wide range of content that they seek.
---
More in Publications

Downloads
We've taken our most requested information and produced a series of helpful tip sheets. Download our free PDF guides here.

Suggested Resources
Here is a helpful list of some of our favorite books and films that you simply can't miss. Browse our recommendations.

Articles
Eric writes a great deal of a number of publications. Take a look at some of his latest articles from his personal blog.