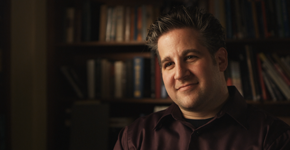 Founding Principal, Eric Corey Freed
organicARCHITECT is the office of Eric Corey Freed, LEED Fellow, Hon. FIGP, a licensed architect (Oregon, California, New Mexico, Arizona), and a recognized pioneer in the traditions of Organic Architecture, first developed by Frank Lloyd Wright. Eric is a visionary design leader in biophilic and regenerative design, and a nationally known expert in deep green buildings. A lifetime proponent of individualism and sustainability, Eric Corey Freed knew he wanted to be an architect at the early age of eight.
Promoting a human, organic and ecological approach to design, Eric enages his clients to draw out their unique needs and personality to shape the design, and mixes that with the conditions of the site and landscape.
Born and raised in Philadelphia, Eric Corey Freed attended Temple University College of Architecture, graduating with honors in 1994. While a student, Eric had the opportunity to focus his concentration on Urban Design in Rome, Italy.
Right before graduating, Eric began working under acclaimed architect Beverly Willis, and helped design two schools in New York. Their design for Manhattan Village Academy was widely acclaimed. At the time, when Eric was just 25 years old, noted architect and critic Philip Johnson described him as "one of the real brains of his generation".
In 1996, Eric accepted a position in Santa Fe, New Mexico with a former apprentice of the master, Frank Lloyd Wright. While there, he had direct contact with both the most ancient and the newest of environmental building materials. Seeking to launch his practice, Eric relocated to San Francisco in 1997 to start his own practice and impacted the environmental movement for nearly 20 years there. Today, Eric lives in beautiful Portland, Oregon, where he consults on projects around the globe.
Eric co-developed the Sustainable Design programs at the Academy of Art University and University of California Berkeley Extension. He's served on the boards of Architects, Designers & Planners for Social Responsibility (ADPSR), Green Home Guide and West Coast Green, as well as the advisory boards of nearly a dozen other organizations. He currently teaches Thesis in the Masters of Sustainable Design Program at Boston Architectural College.
He was the founding Chair of Architecture for The San Francisco Design Museum and one of the founders of ecoTECTURE: The Online Journal of Ecological Design. He has been a regular contributor for Sustainable Industries Journal, Luxe, Natural Home, Metropolitan Home and dozens of other publications. Eric lectures around the country at over 50+ conferences and events a year, and has lectured in all 50 states and 7 countries. His work has been featured in Dwell, Metropolis, Town & Country, Natural Home and Newsweek. He has been seen on television on Fox News, HGTV, The Sundance Channel and PBS.
He was a founding board member and Chair of the Coachella Valley branch of the US Green Building Council, and served on the Sustainability Commission of the City of Palm Desert. He has received awards from several Mayors, and worked with dozens of municipalities around the country.
Recently, he was Chief Community Officer at EcoDistricts (2016-2017), a nonprofit that helps cities and developers create regenerative, resilient and socially equitable neighborhoods for everyone, and Vice President of the International Living Future Institute (2014-2016), a nonprofit that developed the Living Building Challenge, a global, regenerative, deep green building standard. He was also a "Bold Visioneer" to develop the XPRIZE for Healthy Buildings in 2016, where he and his team developed the concept for "Prostruction" of using biology to grow the next generation of buildings.
Eric brings over 25 years of experience in helping architects, builders and homeowners use sustainability to improve the design and operational savings for thousands of buildings around the country. Eric has helped thousands of companies monetize sustainability by showing them how to cut their real estate operations costs in half. Companies like Autodesk, Pixar, Apple and Lowe's have hired Eric to help them incorporate deeper sustainability into their businesses.
Eric is the author of 11 books, including "Green Building & Remodeling for Dummies", a best seller with over 200,000 copies in print, and "Sustainable School Architecture." His latest, "Green$ense for your Home" won the 2011 Outstanding Book Award from the American Society of Journalists and Authors. He is also co-founder of Architect Exam Prep, providing innovative study guides for young architects taking the licensing exams, where he co-authored all seven of their exam guides.
Eric is considered a leader in the field; named by San Francisco Magazine "Best Green Architect" in 2005; "Best Visionary" in 2007; and "Green Visionary" by 7x7 Magazine in 2008. In 2012, he was named one of the 25 "Best Green Architecture Firms" in the US, and one of the "Top 10 Most Influential Green Architects." In 2017, he was named one of Build's American Architecture Top 25 and the following year, Fixr's Top 200 Influencers in the Construction Industry. He holds a prestigious LEED Fellow award from the US Green Building Council.
A sought after public speaker, Eric speaks around the world tirelessly promoting his vision of innovative green design. You can learn more at his personal site, ericcoreyfreed.com or book him to speak at your event here. You can also view his TED talks here and here.
---
I quickly grew tired of waiting for clients to ask for a green building, or asking their permission to do what I felt was already the right thing. Instead we just force it on all of our clients equally.
---

What We Do
For nearly two decades, we've been designing deep green, sustainable projects around the country. Take a look at our recent work.

Schedule a Consult
You can tap into our expertise right now. Whether you need full architectural services or just a couple of hours of advice, we're here to help. Schedule a consultation right now.

How We Can Help
Tell us a little bit about yourself and see how we can work together.

Did you know? You can learn more at Eric Corey Freed's personal blog at: www.ericcoreyfreed.com