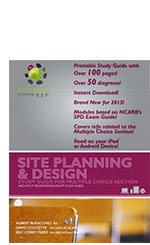 PLAN. PRACTICE. PASS.™
Co-Authored with David Doucette and Aubrey Burrachio
Architect Exam Prep is a multimedia publishing company designed to provide architects with everything they need, including inspiration and encouragement, to help prepare them for and pass the Architect Registration Exam (ARE).
We currently offer complete study packages for all seven divisions of the ARE, designed to facilitate learning and comprehension. Using beautiful graphics, fun analogies and clear explanations, our products and support will help you develop a study plan, practice the problems and pass the exams so you can fulfill your dream of becoming a licensed architect.
Each study package includes:
Study Guide: Our full color, comprehensive study guide is designed to break down the required knowledge topics into clear, easy to remember chunks, with diagrams that will help you connect the dots.
Audio Companion: Our study guide is also provided into MP3 files for you to study during your daily commute, workout or on the go. Our professionally recorded audio companion is formatted into chapters to match the guide and work with your iPod and iPhone.
Vignette Review Guide: Escape your fear of the vignettes with our vignette review guide. Each guide provides two versions for each vignette on the actual exam and walks you through each problem so you can calmly and clearly solve it. The guide includes passing and failing solutions so you can learn exactly how to pass each.
Vignette DIY Workbook: Test your new knowledge by practicing solving the vignettes with our DIY Workbook. With four practice problems for each vignette, you'll be able to practice on paper, in your favorite CAD software, or using the free exam software. The DIY Workbook will hone your skills and build your confidence for the actual exams.
Video Vignettes: These short videos walk you through the actual solutions for all of the sample problems provided in our Vignette Review Guides and DIY Workbooks. One of our most popular features, these videos alone are worth the cost for the package.
Flash Cards: Test your knowledge with over 2700 flash cards (around 400 per division). The flash cards are designed to be printed or read on screen and will quickly build your retention of the material.
Online Exam Simulator: Practice taking the exam in our special online exam simulator. Designed to mimic the real thing, the exam simulator can be taken in helpful feedback mode explaining why a wrong answer is wrong, or in timed "crunch" mode to match the conditions of the actual division.
CAD Files: We provide you with CAD files of all of our vignette problems so you can practice solving the problems as many times as you wish.
30 DAY MONEY BACK GUARANTEE
Try it risk free with our 30 day money back guarantee. We're so confident you'll love our products that we offer them to you risk free!
"I must say this is exactly the type of study package I've been looking for. The audio companion alone is what I've been dreaming of since I got my authorization to test; I won't say how many years ago that was.
FYI – I just got my exam results and I passed! I used your program and it definitely helped me become more familiar with the topics and skills needed."
J. Rose

---
"Your study materials are very helpful and in my opinion most superior to what is out there in the market."
JJ Riestra
---
"The material is PRICELESS!!!"
Y. Mudaliar
---
"Your product is something well overdue for many interns seeking licensure and I am really happy to have the resource for all the newer interns in my office.
Oh, and I purchased the PPP Enchilada and have been listening to the mp3 files. Awesome. Thank you again for this much needed service to budding Architects!"
M. Mangione
THE ULTIMATE WHOLE ENCHILADA
Everything you need to study for each divison of the ARE
Download our Ultimate Whole Enchilada packages instantly and start studying today. With our 30 day money back guarantee, you have no reason to not get started right away!