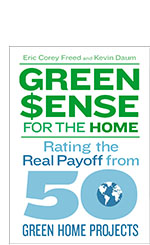 YOUR INVALUABLE GUIDE
FOR GREENING YOUR HOME
Co-Authored with Kevin Daum
When does a green home project make financial sense? The authors of this book provide the answer to this and other questions relating to the cost (and relative value) of environmentally friendly home improvements. Eric Corey Freed and Kevin Daum are experts, respectively, in green building and in financing custom homes. In this information-packed book, they walk readers through 50 green home projects and break them down according to the positive impact they have on the environment, as well as the impact they may have (both positive and negative) on the reader's wallet. They evaluate a wide array of projects, including insulating pipes, weatherizing doors and windows, composting and recycling trash, installing a solar hot water heater, installing green countertops, upgrading appliances, building with reclaimed materials, and installing radiant heat. This unique perspective on going green is a reference that green-leaning homeowners simply cannot do without.
WINNER: 2011 Outstanding Book Award
from the American Society of Journalists and Authors.
"Desiring an efficient, healthy living environment is one thing. Finding the best cost effective ways of achieving that desire is another entirely. That is why it is so wonderful to have this insightful book to guide through the dreaming, designing and building process of a green home."
Michelle Kaufmann
Architect, Author of Prefab Green
"Green$ense is one of the few sources of practical, actionable ideas firmly grounded in sustainability theory and practice. With this book, everyone can quickly make clear changes and chart a course for even greater savings, health, and happiness in the near and further future."
Nathan Shedroff
Author of Design is the Problem
Program Chair, MBA in Design Strategy, California College of the Arts
"Too often discussions about greening our homes run in polar opposites between proponents of going green at any cost and those who are only interested in cost, while most of us are in the middle ground somewhere between these extremes.  In "Green$ense" Eric Corey Freed and Kevin Daum have struck just the right balance between environmental and financial considerations, telling both sides of the story for 50 different home projects.  This book of practical solutions will help a great many homeowners green their homes without busting their budget."
Glenn Croston
Author of 75 Green Businesses
"So many Americans are interested in saving money on their utilities but don't know where to start.  Two major obstacles to so many projects are money and know-how.  Freed and Daum overcome both with easy how-to advice and clear financial analysis that makes greening projects accessible to everyone.  This is a really fantastic tool for homeowners, property managers, and remodeling contractors."
Scott Cooney
Author of Build a Green Small Business
TABLE OF CONTENTS
16 green home projects you can do today
Change your light bulbs
Help your toilet use less water 
Help your shower use less water 
Install occupancy sensors 
Install smart strips and kill switches 
Install a programmable thermostat 
Insulate your water heater 
Insulate your pipes 
Seal your ducting 
Use healthy paints 
Weatherize windows and doors 
Install solar pool heating 
Plant native species and skip the sprinklers 
Buy a water filter instead of bottled water 
Install a clothesline 
Recycle and compost your trash 

21 green home projects you can do tomorrow
Add solar power 
Install micro-hydropower 
Bring in natural daylighting 
Replace your windows 
Install a whole-house fan 
Insulate your walls and attic 
Upgrade your appliances 
Upgrade your fireplace
Heat only the water you use 
Install a solar hot water heater 
Install a cool roof 
Pick a green countertop 
Cover walls with healthy finishes 
Install healthy wall coverings 
Replace vinyl with linoleum flooring 
Install cork, palm wood, or bamboo flooring 
Install natural carpeting 
Use formaldehyde-free wood for cabinetry 
Build a composite material deck 
Harvest your rainwater 
Disassemble, don't demolish 

13 green home projects you can do when building new
Reclaim your water, gray and hot 
Substitute fly ash for cement in concrete 
Incorporate advanced framing techniques 
Build with reclaimed materials 
Build with recycled drywall 
Build with certified wood 
Build with engineered lumber 
Build with structural insulated panels (SIPs) 
Build with insulating concrete forms (ICFs) 
Install radiant heat 
Integrate your energy systems 
Install a green roof 
Utilize passive solar design