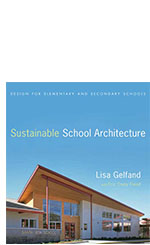 Get the comprehensive guide to the sustainable design of schools.
Co-Authored with Lisa Gelfand
The elementary and secondary school buildings and campuses built today are the schools of the future. Sustainable School Architecture is a guide to the planning, architecture, and design of schools that are healthy, stimulating, and will conserve energy and resources. Written with the needs of architects, construction professionals, educators, and school administration in mind, the book provides a road map for sustainable planning, design, construction, and operations.
By its very nature, a school is often the centerpiece of its community and, therefore, well positioned to take the lead in influencing environmental awareness. Building on this point, Sustainable School Architecture shows how eco-friendly practices for school construction can create an environment that young students will emulate and carry into the world. Written by experts on sustainable school design, this book:
Focuses on the links between best sustainable practices and the specific needs of educational institutions.
Has nineteen international case studies of the best contemporary sustainable schools located in urban, suburban, and rural communities in temperate, tropical, and extreme climate zones.
Contains valuable information on the California Collaborative for High Performance Schools (CHPS) and the Leadership in Energy and Environmental Design (LEED) rating system.
Serves as a resource for incremental modernization and operation strategies as well as comprehensive transformation.
Offers tips on running an integrated, community-based design process with support information on the materials and systems of the sustainable school.
Includes contributions by experts on approaches to the sites, systems, maintenance, and operation of sustainable schools.


With a practical overview of how sustainability can be achieved in new and existing schools, and how to maintain this momentum in the years ahead, this important book provides architects with detailed guidance for designing healthier learning environments to help usher in a more promising future.
"Sustainable School Architecture: Design for Elementary and Secondary Schools" is an important book. An important book for not just architects of schools, but for all architects and those interested in the sustainable issues our country is now confronting."
Smoove
Amazon Review
"This book is superb - it is filled with actual schools, specific examples, that exemplify all the ideas that the authors describe in the text. I highly recommend this book to anyone interested in finding out more about how the issue of sustainability can drive the future of school architecture and, in turn, the learning environment that such architecture fosters."
Nic
Amazon Review
Contents
CHAPTER 1 AN INTRODUCTION TO SUSTAINABLE SCHOOLS
Introduction
Need for Sustainable Buildings
Benefits of Sustainable Schools
Elements of Sustainable Schools
Putting It All Together
CHAPTER 2 PLANNING STRATEGIES
Introduction
Selecting the Team
Integrated Design
Funding the Sustainable School
Case Studies
CHAPTER 3 DESIGN STRATEGIES
Introduction
Integrated Design
Formal Considerations
Spatial Considerations
Unique K–12 Considerations
Conclusion
Case Studies
CHAPTER 4 DAYLIGHTING
Introduction
Benefits of Daylighting
Early Precedents
Site Design and Daylighting
Daylighting Light Requirements
Building Design for Daylighting
Specifics of Opening Design
Artificial Lighting
Case Studies
CHAPTER 5 BUILDING STRUCTURE AND ENVELOPE
Introduction
Initial Considerations in Wall Design
Alternative Wall Construction Methods
Insulation
Weatherizing
Water and Moisture Control
Openings
Acoustics
Roof Design
Case Studies
CHAPTER 6 HEATING, VENTILATING, COOLING, AND PLUMBING
Introduction
Comfort
System Types
Design for Natural Ventilation
High-Performance Strategies
Water
Closing
Case Studies
CHAPTER 7 LANDSCAPING AND SITE DESIGN
The Third Teacher—Guest Essay, Susan Herrington
Introduction
Stormwater/Groundwater Management
Heat Islands
Paving
Fields
Water-Efficient Irrigation Systems
Miscellaneous Site Uses
Planting the Play Environment
Integrating Sustainable Practices
Case Studies
CHAPTER 8 FINISHES, EQUIPMENT, AND FURNISHINGS
Introduction
Product Information
Flooring
Wall Finishes
Ceilings
Paints and Coatings
Casework and Furnishings
Computers and Offi ce Equipment
Specialties
Case Studies
CHAPTER 9 COST AND BIDDING PROCESS
Introduction
High Cost
Alternative Project Delivery Methods
Contracts
Bidding
CHAPTER 10 CONSTRUCTION
Introduction
Sustainable Job-Site Operations
Construction and Demolition Waste Management
Indoor Air Quality Protection during Construction
Verification
Commissioning
Postoccupancy
Prefabrication
Deconstruction versus Demolition
CHAPTER 11 OPERATIONS
Sustainable Schools—Guest Essay, Virginia Waik and Rosanna Lerma
School Culture
School Facilities as Vehicles for Learning
Operations
Community Connections
CHAPTER 12 MAINTENANCE
Preventive Maintenance
Maintenance Techniques
Cleaning Products
Snow Removal
The Last Word
Case Studies
CHAPTER 13 A LOOK INTO A FUTURE FOR EDUCATION
Introduction
Information Technology
Adaptation
Trailblazing Projects
School and Community Interface
New Models of Sustainability
APPENDIX
LEED Scorecard
CHPS Scorecard
Section 01350